How GPS tracking software solves freight transport challenges in Africa
Posted on: 2019-02-01
No doubt, freight transport has an important weight in the internal economy dynamic. Infrastructure deficit and high cargo prices create huge hurdles to economic growth in the region. Lack of competition in transport and logistics companies doesn't help either.
At the same time the landlocked countries depend immensely on the Four Key Transport Corridors, making road transportation absolutely critical. Is there a way to make freight transportation safer and cheaper? We might know just the right solution.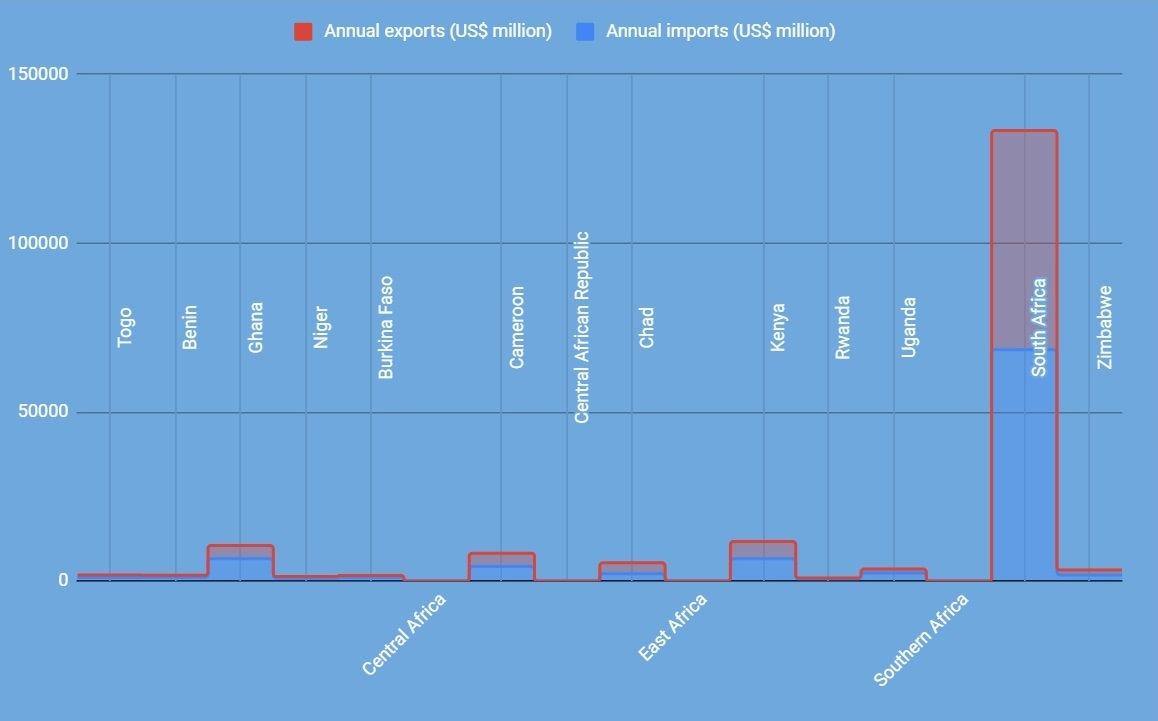 How can the GPS tracking platform make a difference
The "African case" is very different in each region: transport prices vary a lot and depend on the infrastructure of each country. The challenges of freight transportation, however, in all the regions are the same. It's safety, management, quality and efficiency of shipment, distribution and delivery of loads.
The good news is all these major problems can be solved by the GPS tracking and telematics platform. Let's see how it works. In general, regardless of the cargo type, telematics helps all fleets and carriers to improve shipping-delivery logistics with:
Real-time monitoring
Route optimization
Workforce management
Geofences
In-depth analytics
and more.
This means that a GPS tracking platform will always help your customers maintain an efficient and high-quality logistics and extensive road protection.
Here are some of the benefits (among many others) that can be achieved by a GPS tracking solution.
Cargo Security: alerts on everything important
Detect when a trailer is coupled or uncoupled. The use of trailers is a very profitable option in cargo transport, since it allows to deliver more goods. At present trailers can be used not only in combination vehicles. In highly dense cities the option of using trailers in vans, pick-ups and other small vehicles is becoming more and more popular. It allows to deliver goods to the areas where a truck can't get through.
In cargo supply chain, monitoring of hooking and unhooking of trailers can be crucial. If decoupling occurs en route (which would indicate a theft or a traffic accident), the alert will go off. It shows not only what happened, but where and when exactly it happened in real time or in the past.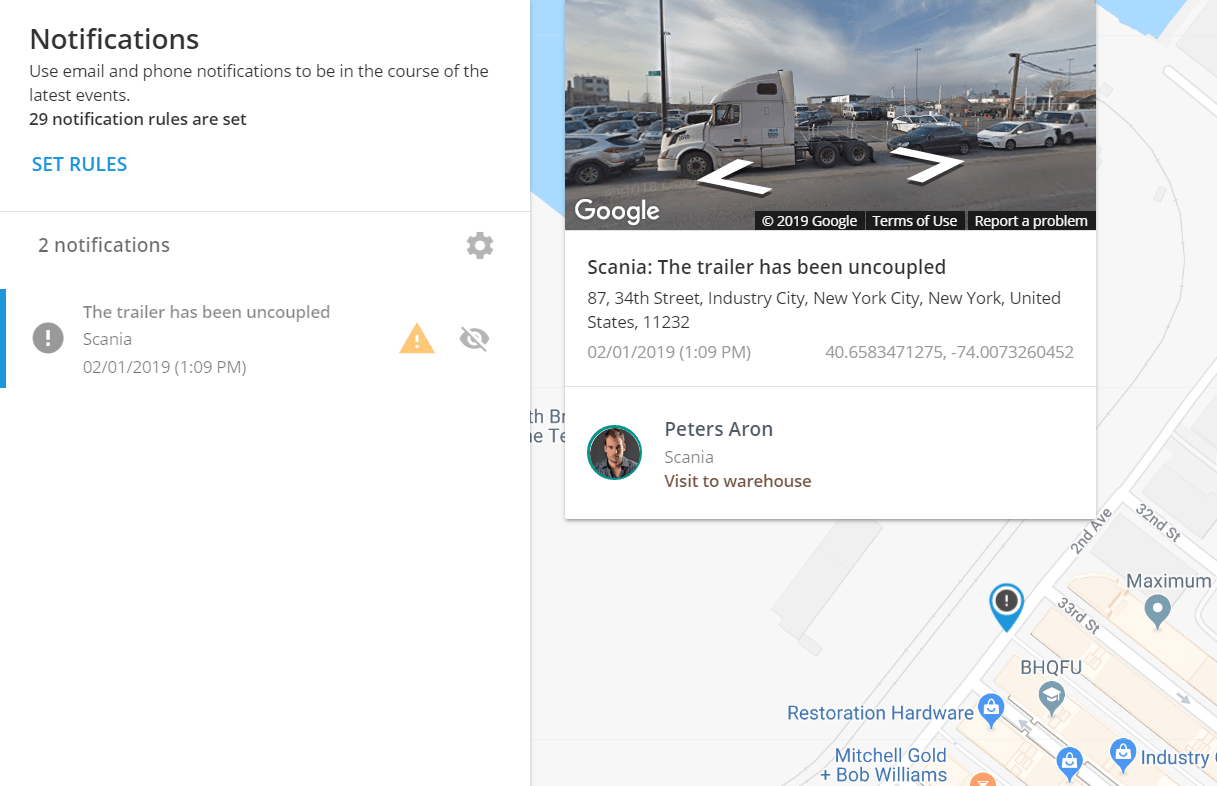 Monitor opening and closing of container doors. Another theft-preventing solution is monitoring of container doors. Some containers are meant to be open a few times along the way, some have to remain sealed. In any case your customers will stay alert about any doors opening incident during the road journey.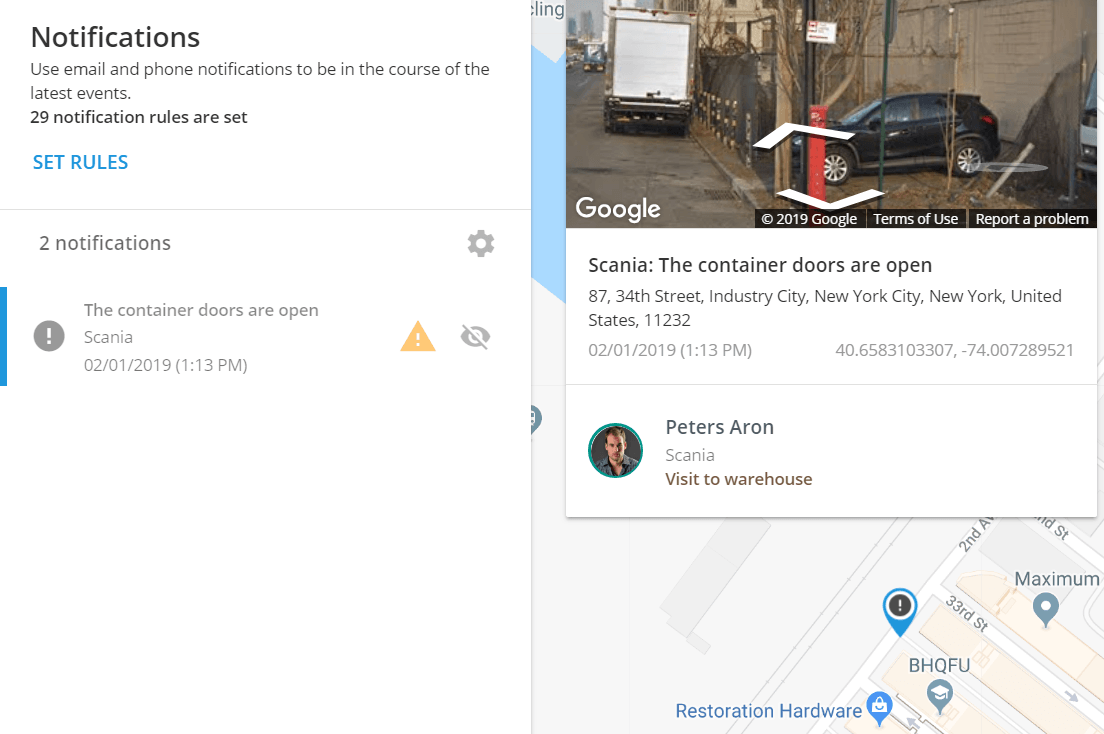 We strongly recommend to upgrade the most critical alerts to emergency notifications. In this case your clients will never miss the alarm whenever the sensor is triggered (unhooked trailer detector, doors opening sensor, panic button, tow detector, etc).
Maintain the goods quality to NOT lose money
However, having goods delivered is not everything: they also have to maintain their original quality intact. Telematics and IoT have a few solutions hidden up the sleeve to remotely control the quality of delivered merchandise.
Maintain proper temperature inside the containers. A large portion of freight volume consists of edible products, pharmaceuticals, chemicals and other products, which are sensitive to temperature variations. Special sensors recording the temperature inside the container along the entire cold chain will do the trick. When there are perishable products onboard, your clients can monitor the temperatures in real time to make sure their goods are in good hands.
The temperatures for any past periods can be checked through reports. Not only will they feature the exact temperature and time, but will also turn it into a graph to easily perceive the data.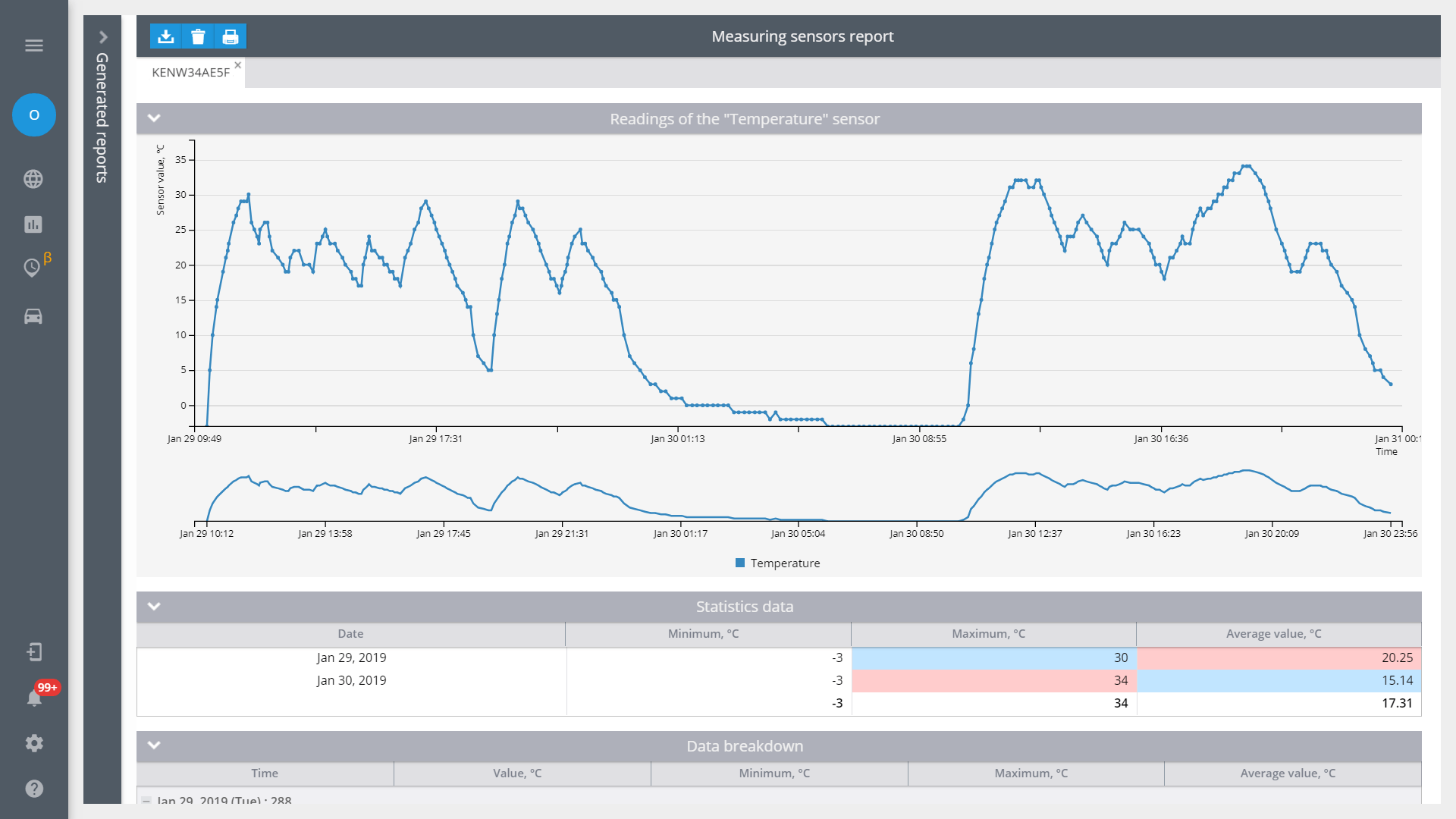 Helpful tip: in some cases a new, faster route can also be of help. The GPS tracking solution will find the fastest way to make sure no extra time is wasted.
Protect cargo against irresponsible drivers. Even if the truck is duly refrigerated and secured, there is a man-made hazard that can't always be foreseen – harsh driving. Thanks to Eco driving feature the GPS tracking and telematics software will detect speeding, cornering, harsh braking, etc in real-time. Reports for the past periods are available on click. Let your clients rate their drivers and let them know that no penalty will slip unnoticed.
Monitor fuel shipment and detect theft immediately
The carriers of liquid cargoes, especially the ones transporting gasoline and naphtha, are always at risk. Every time fleets of tank trucks are sent for supply of gas stations, the risk of the tank being drained for sale in black market must be considered. This implies losses in millions of dollars. Let's take a for instance. Average tank truck has the capacity of 10 000 US gallons (about 38 000 liters) of fuel. An approximate price is 2.72 USD per gallon. You do the maths.
The GPS tracking and telematics solution will give the users a full picture: fuel drains and refills in real time monitoring, as well as fuel level metrics at any given moment in the past. These reports can be generated automatically and sent to client inbox as often as needed.
Fuel level sensors can be installed in any vehicle tank to monitor the fuel level along the route. Visualise fuel consumption for the period, fuel siphoning and other fuel frauds to improve internal processes. I guess your clients won't mind cutting costs on fuel and gas, will they?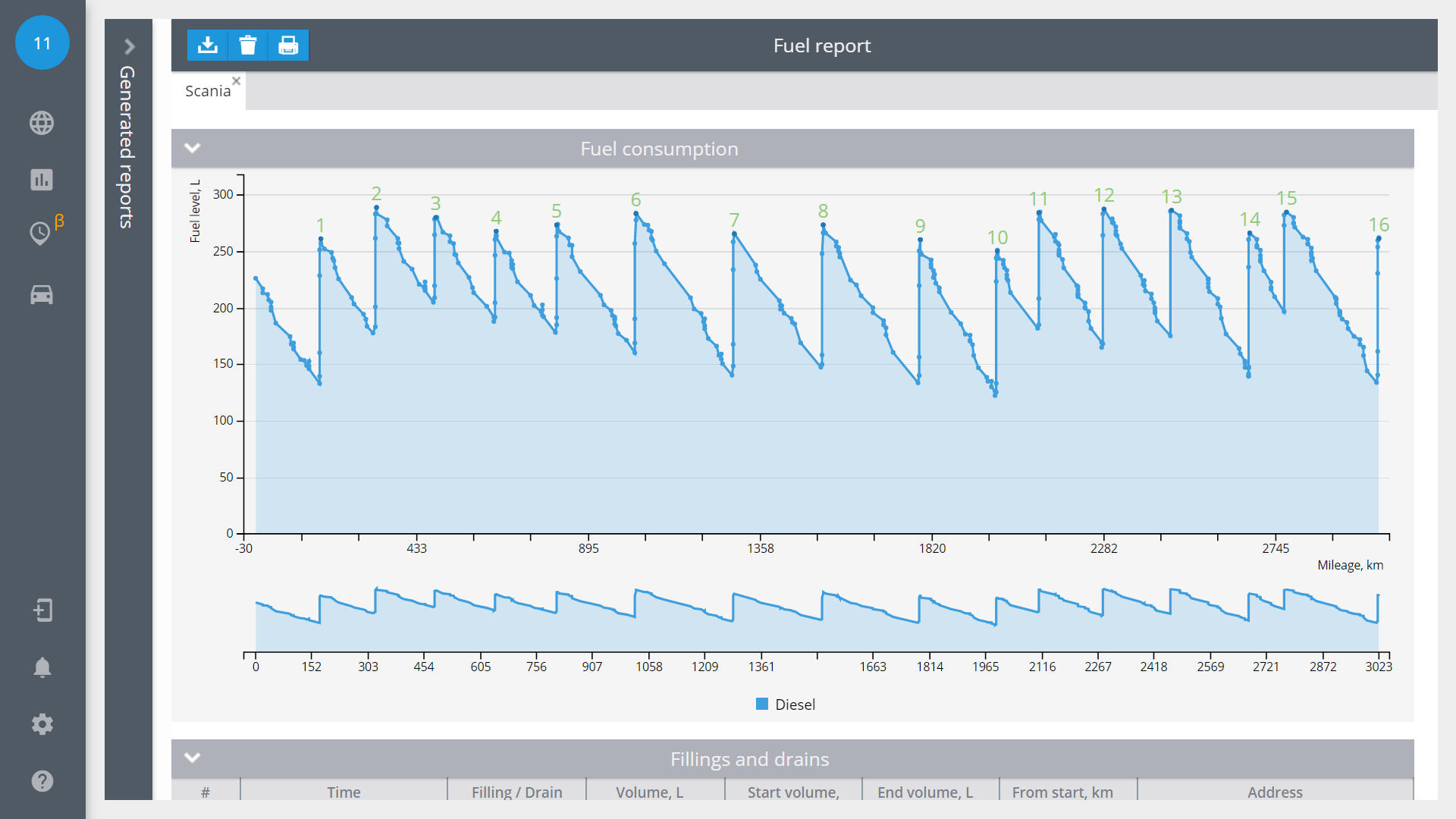 It is with great pride that we mention our hardware partners Escort and Teltonika. Wireless fuel level sensors by Escort offer easy installation and cheap tamper-proof operation. Escort gauges and Teltonika trackers are fully supported in iTrack GPS tracking and telematics platform.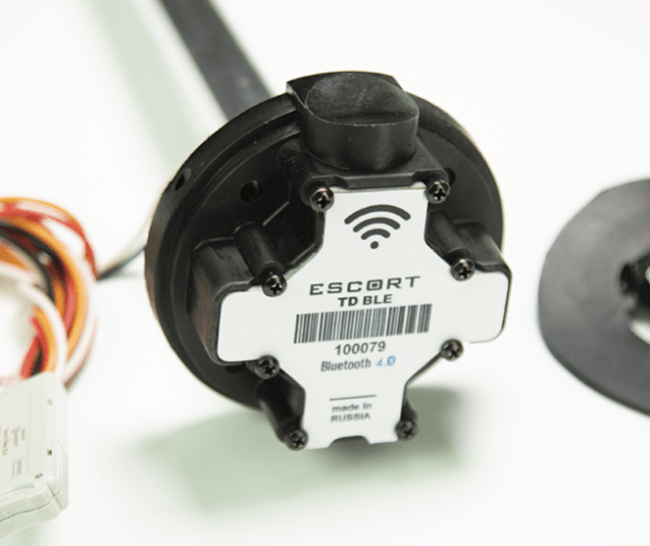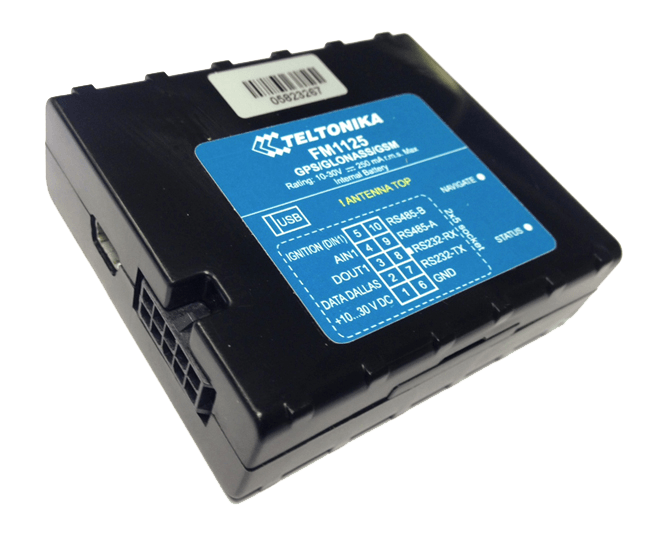 The cargo has arrived successfully!
The possibilities in the world of telematics applied to cargo transport are extensive, and together with the use of an intuitive GPS tracking platform, you can enjoy a wide range of benefits and solutions. If you are a fleet owner, you can be confident that the shipment and distribution of cargoes will be carried out with high safety standards. Or, if you are already our partner and are looking for new options, feel confident to expand your GPS tracking services to this sector and try the modern and innovative solutions offered by the world of telematics.