iTrack + tyntec integration enables global communication for GPS tracking solutions
Posted on: 2019-02-12
SMS gateway is an integral part of the GPS tracking solutions. From making your GPS tracking platform mobile-carrier-independent to powering it with unique SMS-based features.
When our partners asked for iTrack's integration with tyntec, a cloud communications provider with a global SMS gateway, we heard the message loud and clear! However, for iTrack integration with a new service provider is never just about offering a "yet another option." We need to make sure that it will be a valuable tool for our partners. Being experienced, well-trusted and technology-driven, tyntec fit the requirements like a glove!
Why transport telematics (still) needs SMS
Although GPRS remains the main communication channel between a GPS tracker and a telematics platform, SMS plays an indispensable part at some crucial points: hardware activation, notifications or LBS data when the Internet is not available or too expensive to use (e.g. in international roaming). While the latter is quite understandable and compatible with real-world situations, the former ones need some special attention.
GPS tracker activation. GPS tracker initialization at iTrack is fully automated and requires minimum action on the integrator side (to fill in a few details including the device IMEI and the cell number). All the while the GPS tracking platform is busy sending M2M commands to the device via SMS. A few seconds and the hardware is activated!
Besides automatic activation, iTrack allows to remotely access your GPS trackers. It can be configured intuitively in the widgets through GPRS. However, some budget GPS trackers can be remotely managed only with SMS.
Notifications. Receiving alerts about any violations and accidents is a vital part of Fleet Management. SMS notifications maintain its relevance being the only offline alert media. Internet breakdowns or no internet or WiFi connection won't affect your clients awareness. With SMS notifications they will stay updated on any events. The option is very well-received in all major verticals (logistics, courier services, construction, etc.), where the assets are often taken to remote locations.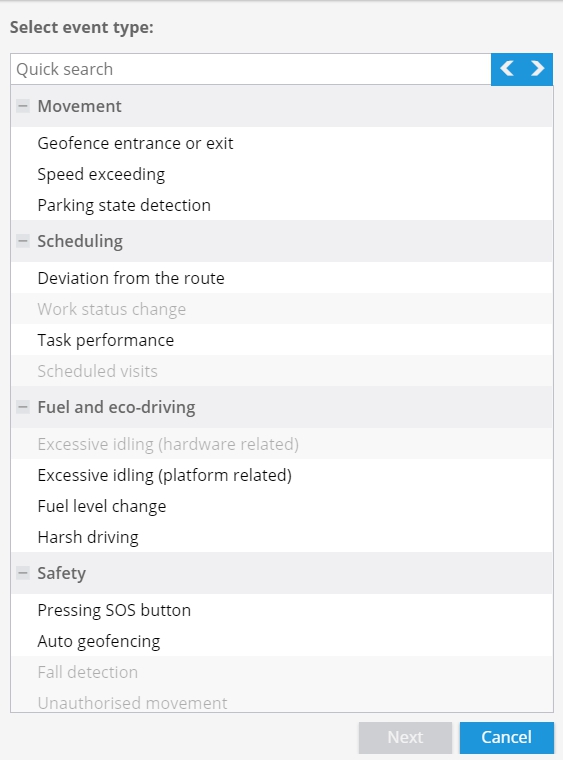 TYNTECnically-driven GPS solution
We are often asked, "Do I need a third-party SMS gateway or will my local carrier do?" It depends. If you have all your clients in one region covered by one cellular operator and your company is relatively small - it's up to you. But if your business is going places, at some point you will require a more scalable solution.
We asked Jean Shin, Director of Strategic Marketing at tyntec, for her expert opinion on why customers all over the world choose to integrate a global SMS Gateway over working with local mobile carriers:
It's easier to integrate (local carriers rarely have web APIs ready for external developers); and faster to deploy (no need to add a separate API for each local market). Basically tyntec removes the complexity involved in using SMS messaging around the world. For ISVs and solution providers that's even more important as they need to address different needs of each end-customer no matter where they happen to be located.- "Jean Shin, Director of Strategic Marketing at tyntec"
The SMS Gateway will be immediately available to your GPS service. Simply create an account at tyntec.com and provide your login and password to iTrack. The above mentioned benefits will be granted immediately. Besides, tyntec operates a 24/7 customer service line supported by knowledgeable staffers and proactive monitoring tools to address any issue head-on.
Fuelling your GPS tracking solution with tyntec allows your business to cross regional or national borders with ease. All you need is to acquire a virtual number in the new region - the rest of the transition will be taken care of by tyntec. Being a global cloud communications provider tyntec works with many cellular operators from all over the world, providing a seamless coverage.
Still have doubts? No worries. Activate a free no-liability trial. Try it free and cut your teeth on the new solution. If you don't find it beneficial for your clients, we will help you find a better option.
Ready to try tyntec's SMS gateway for your GPS tracking solution? Reach us at info@itrack.live or on our social channels. iTrack's customer support teams will help you complete the integration and answer any questions you may have.