Why iTrack is the go-to telematics platform for hardware integration
Posted on: 2019-02-28
Hardware integration is the core of advanced vehicle telemetry. However, some GPS tracking and telematics platforms don't make it very easy for their partners and users to connect any GPS device. Calling tech support (which is seldom toll-free), setting up the hardware through manual machine texts and wasting time - that's not how we do it in iTrack.
Based on the feedback from our long-time and new partners, we singled out a few advantages that make companies choose iTrack over other GPS tracking and telematics platforms in terms of device integration.
Fast and easy automatic initialization
Although we are software developers, we are nonetheless passionate about hardware. This under-the-hood activity allows us to come up with the best solution for users, who want to have the devices up and running asap.
In iTrack we automated the M2M commands for initial configuration to provide plug-and-play simplicity. All you have to do is intuitively fill in the parameters (phone number, APN and IMEI) and click Activate. The rest will be done by the GPS tracking platform itself and won't take longer than a couple minutes or less. Not only can it be done by anyone, it can be done from anywhere.
Though it sounds exactly-how-it-should-be, this level of automated activation is available only on iTrack. Many software developers require users to send SMS commands manually to activate the GPS trackers. Some GPS tracking platforms do not support remote hardware configuration; it has to be connected to their laptop first. These procedures aren't only time consuming, but require hiring a service personnel. What if you want to add or transfer dozens and hundreds of devices? How much time and money will it take? Now you know, that it can (and should!) be avoided.
Remote Device Management
Once the device is active on the platform, the users will have access to the devices widget, which is a very useful, visually-enhanced and an intuitive tool. Simply select the parameter that you need to configure, and intuitively manage it with toggle-switches, sliders and value inputs right in the portlet. No need to send SMS, install device configuration software or connect the GPS tracker to a laptop.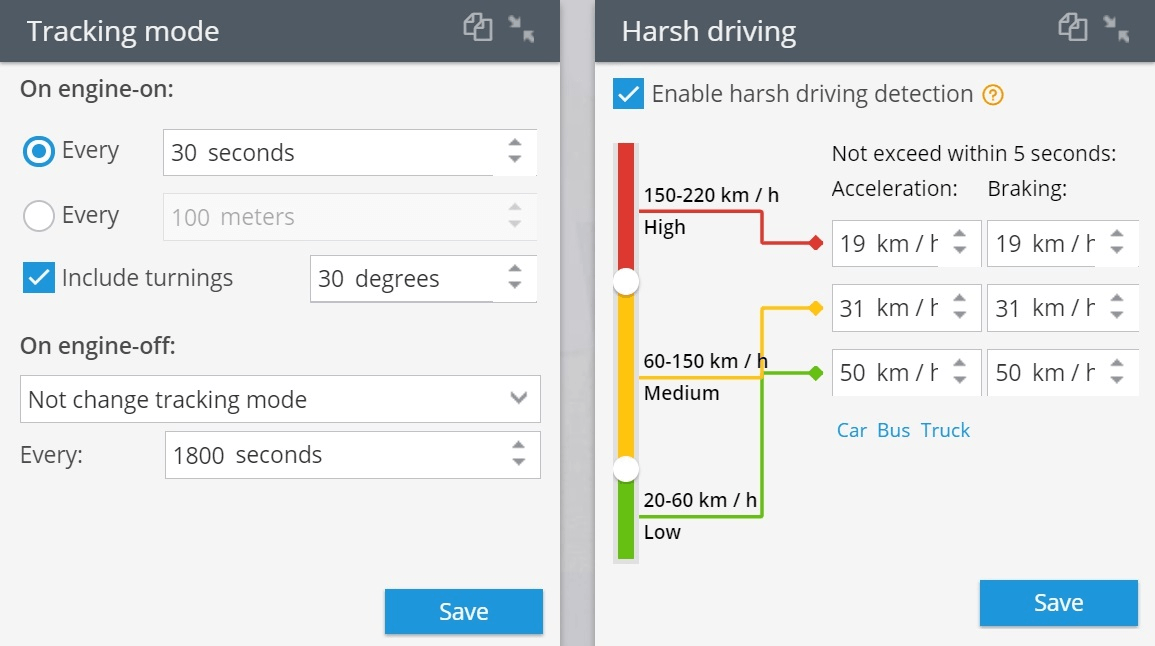 Hardware agnostic platform: 900+ devices integrated
We have already integrated over 900 devices - and counting! iTrack is always on the frontline of innovations: never missing a chance to meet our world-famous hardware partners (Teltonika, Coban, ATrack, Jointech and many others) at international fairs (Expo Seguridad, Telematics Conference) and in our HQ, both off- and online. We visit their production facilities, follow their updates and are always on the watch for the next "it" device.
When a brand new, innovative device is rolled out, we can integrate it proactively before there is a request from your clients. We know it will be a hit, so why waste time? Later when your clients want it, they will be able to adopt it with zero delay.
If you rely on your favourite local manufacturer and have many devices of their make, we can integrate them, even if it is considered to be a no-name product. We don't integrate every piece of hardware that we stumble upon, but we always consider what our partners want. As an option we can offer a better and cheaper device that fits most.
Providing the product and expertise
Another thing that makes iTrack stand out hardwarewise is the resource center on every GPS tracker supported by iTrack. Concise manufacturer profile and detailed data sheets for every tracker model are available 24/7 and are free of charge. You can always look up any GPS tracker, read the details and ask the sales team. When a new device comes in - the description follows immediately.
In iTrack we take care of our partners. We take time streamlining every process that can be automated to save your time and money. Being a iTrack partner means having access not only to the product, but also to the service and expertise. If the issue requires thorough clarification (or a little IT magic), our support team will be happy to assist. Have any integration proposals you'd like to discuss? Please feel free to email at info@itrack.live.